Hotels to remember: Ladispoli
Ladispoli: introduction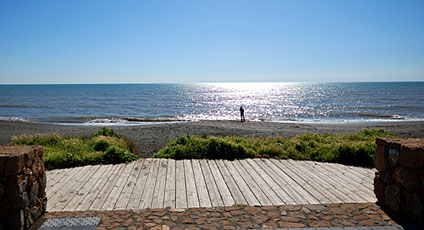 The beaches of Ladispoli have, for centuries, been a much-loved destination of the rich and famous. Elite vacation resort of the patrician classes of ancient Rome, from the middle ages onwards this was to become the preferred stretch of coast of the European aristocracy. It was indeed a prince, Prince Ladislao Odelscalchi, who founded Ladispoli (city of Ladislao) in 1888, when he enclosed the area around the 14th century Odelscalchi Castle and the Hunting Reserve of the Bosco di Palo (now a WWF nature reserve).
Thus the first residential nucleus of Ladispoli was created, town which to this very day still draws a steady stream of holiday makers eager to experience the renowned therapeutic properties of the area's iron-rich sand. Along the coast there are a number of ruins dating back to the period of ancient Rome, such as the stunning villas on the beaches of Marina di Palo and Marina di San Nicola.
Despite the importance of these archaeological findings, the real landmark of Ladispoli is the town's Torre Flavia. Centuries of coastal erosion has meant that this medieval watch tower, built on what was at the time the mainland, is now situated some 80 meters out to sea. Between Cerveteri and Ladispoli lies the WWF's Marsh of Torre Flavia: a wetland of vital importance for numerous species of migratory avifauna and an absolute must for birdwatchers.
Ladispoli: suggestions from the hotels
Roberto Del Duce
(Direttore e Chef)
4 Star Hotels

Because of the sea ... a stone's throw from Rome. Because the area is rich with history, culture, art. Because the products of the sea and the earth are children of the tradition, genuine and authentic, delicious. (Hotel Alle Tamerici) →
Ladispoli: places to see in the area