Hotels to remember: Roccella Jonica
Roccella Jonica: introduction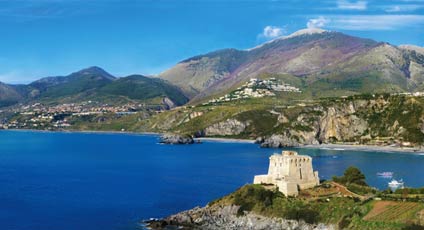 The symbol of Roccella Jonica, splendid town of Calabria's "Locride" area, in the province of Reggio Calabria, is its Angevin Castle: a magnificent 16th century stronghold which dominates the town and the surrounding landscape. The Castle was built by Prince Fabrizio Carafa, one of the fiercest opponents of the philosopher Tommaso Campanella, to ward against Saracen attack.
In the immediate vicinity of the castle another important medieval edifice can be found: the Pizzofalcone tower. Roccella Jonica is, perhaps, best known for its crystal clear sea, which each year obtains numerous international accolades. On the seafront promenade, one of the town's principal attractions, there are two columns in Egyptian granite, recovered from the sea by fishermen in 1863.
Each year, on the first Sunday of July, Roccella Jonica holds celebrations in honour of the town's Patron Saint S.Maria delle Grazie. For the occasion, a statue of the Madonna is carried through the streets of the town before being transported by boat at the head of an impressive procession of sailing craft. Travelling South, visitors soon come to Marina di Gioiosa Jonica, an interesting and only recently discovered tourist destination.
More suggestions and useful addresses
Roccella Jonica: places to see in the area