From Pollino to the sea
From the Pollino National Park to the Ionic coast, from Morano Calabro to Rossano.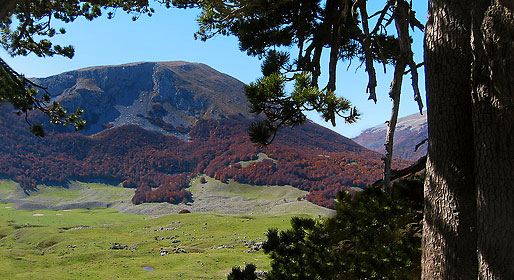 The taste of the mountains and the flavors of the sea: those exploring the varied region of Calabria will have ample opportunity to enjoy both.
This itinerary starts in Morano Calabro, one of Italy's most beautiful little hill towns, nestled between the mountains of the Pollino massif. From here, any number of excursions head in to the Pollino National Park, through lush woodland and up tree covered mountain slopes.
Houses of worship, in Morano Calabro
The historic center of Morano Calabro, appearing like a medieval nativity scene, is a major tourist attraction, its narrow little lanes winding their way all the way to the summit of the hill from where the town's Norman Castle gazes out over the surrounding mountainside. The Church of Santa Maria Maddalena, with its dome and bell tower faced in blue and yellow majolica, can be seen from afar.
The late Gothic Church of San Bernardino da Siena draws the crowds with its unique wooden ceiling, built so as to resemble a ship's hull

Two marble statues by Pietro Bernini, father of Gian Lorenzo, are conserved in the 11th century Collegiate Church of S.S. Pietro and Paolo, Morano Calabro's oldest house of worship.
Castles and crucifixes in Castrovillari
For the next part of our journey we remain within the boundaries the Pollino National Park and head for Castrovillari so as to visit Civita, the oldest part of the town, dominated by a magnificent Aragon castle.
Once inhabited by a flourishing Jewish community (expelled in the 16th century), the district of Giudecca is, arguably, the most attractive part of Castrovilllari

Giudecca is home to the beautifully conserved 12th century Church of San Giuliano, in which a highly prized wooden crucifix and an image of a Black Madonna, are conserved.
The town's Civic Museum', with its collection of artifacts dating back to the Paleolythic age, is well worth visiting.
Sun, sand and citrus fruit in Sibari
Traveling from the mountains towards the sea, we soon arrive at Sibari, where to take a dip in the sparkling Ionian sea.
A well established bathing resort, with long sandy beach, and an enchanting little town, home to a series of ancient Greek and Roman ruins, make Sibari a favorite Calabrian holiday destination.
The nearby Piana di Sibari is used for the cultivation of the region's world-famous citrus fruit.
Miracles and manuscripts in Rossano
The last stage in this journey takes us to Rossano. This historic Byzantine town and the immediate surroundings are quite littered with ancient churches and hermitages. One of the most beautiful is the Santa Maria del Pàtire, or Pathirion: a religious complex in which to find both Byzantine and Arab Norman architectural details.
Then there is the Cathedral of Rossano, the origins of which date back to well before 1330, when Roberto d'Angio ordered its rebuilding. The cathedral is famous for its fresco of the Madonna Acheropita, which the faithful claim appeared miraculously on the wall of the edifice, untouched by human hand
Rossano is best known for its Codex purpureus rossanensis, a stunning 188 page illuminated manuscript brought to Rossano by Greek monks in the 6th century. The Rossano Gospels are conserved in the Diocesan Museum in Palazzo Arcivescovile

Hotels in the area

0 ft
Camigliatello Silano