Hotels to remember: Isola di Dino
Isola di Dino: introduction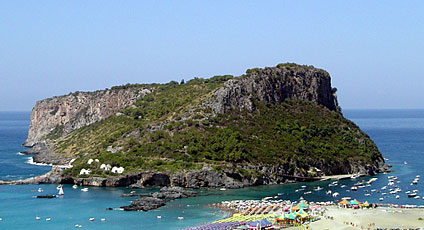 Just a short distance away from Praia a Mare, the Isola di Dino (once known as the Isola dei Conigli or "Rabbit Island") is a small tongue of land, just 4 kilometers in perimeter and reaching a height of maximum 65 meters, which represents a veritable natural treasure, famous for the lush Mediterranean vegetation which grows here and its spectacular sea.
No sandy beaches, but rather a series of stunning sea caves such as the "Cascate", "Frontone", "Sardine" and the marvellous "Grotta Azzurra", this latter similar to the cave of the same name found on the island of Capri. In the "Grotta del Leone" the most impressive stalagmites, of the most curious shapes and forms, can be seen.
For the joy of diving enthusiasts, the seabed offers an abundant display of marine flora and fauna whilst, for those who prefer to observe the wonders of nature whilst remaining on dry land, the walk along the slopes of the island leading to its summit is rewarded by the most breathtaking of views.
Isola di Dino: places to see in the area