La Locanda delle Donne Monache
(4 Star Hotels) Maratea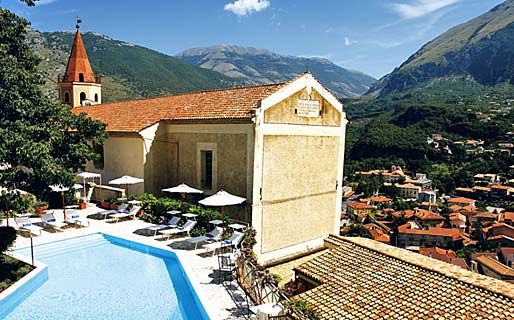 La Locanda delle Donne Monache
+39 0973 876139
Situated in the historic center of Maratea, Locanda delle Donne Monache is an elegant hotel occupying a building constructed in 1735 as a convent. The spaces, which for centuries were reserved for the prayers and meditation of the sisters of the Vistandone order, have now been transformed in stylish guest accommodation. The careful integration of the very latest technology has left the charming simplicity of the original architectural forms unaltered.
The majority of the hotel's rooms enjoy spectacular views over the old town of Maratea. Stylishly simple furnishings together with superb modern facilities ensure the maximum comfort.
The very best of the Basilicata region's great gastronomic tradition awaits those choosing to dine at the hotel's "Il Sacello" restaurant. In the summer, the external portico overlooking a garden brimming with sweet smelling lemon, jasmine and bougainvillea, provides an idyllic venue where to enjoy a romantic evening meal. The Bar "L'Alambicco" is the perfect place in which to partake in cocktail or taste any of an excellent selection of Italian wines.
Guests sojourning at the Locanda delle Donne Monache may decide to take a dip in the swimming pool or simply relax on the poolside, from where to admire a fabulous view over the center of Maratea. Lovers of the sea will be unable to resist the beaches of Maratea, lapped by some of Italy's cleanest waters.
A small function room with a seating capacity for as many as 50 people is available for conferences and social events. State-of-the-art audiovisual equipment and the assistance of highly qualified staff ensures each event is a success.
La Locanda delle Donne Monache
Via Carlo Mazzei, 4

-

85046

Maratea

(Potenza)
Tel.

+39 0973 876139
Fax

+39 0973 876203
La Locanda delle Donne Monache amenities
Outdoor facilities
Rooms
Wellness
Food and drink
Events
Various