Hotels to remember: Isola Capo Rizzuto
Isola Capo Rizzuto: introduction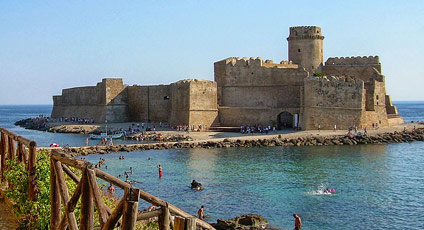 On the edge of a terrace just a short distance away from the sea, Isola Capo Rizzato is situated in a perfect position which has encouraged tourism to develop at a rapid pace with the creation of a number of coastal resorts.
The Isola di Capo Rizzuto's fine sandy beaches are superb with a sea which since 1991 is part of the Natural Marine Reserve of Capo Rizzuto, an area of over 36 kilometers of coast comprised between the Coast of Capo Donato and the area of Le Castella. In this reserve numerous fish species can be found and a variety of superb sea beds perfect for diving and nature enthusiasts.
To visit at Isola Capo Rizzuto: the castle ruins and the walls of the fortified town, the Church of St Marco and the Cathedral. Local events include the Pilgrimage to the Sanctuary of the Greek Madonna held every Monday of May and the 5th of August in the Capo Rizzuto area, the area with greatest tourist appeal thanks to its splendid beaches.
Isola Capo Rizzuto: places to see in the area