The Forest of Giants
The wild and wonderful nature of Sila.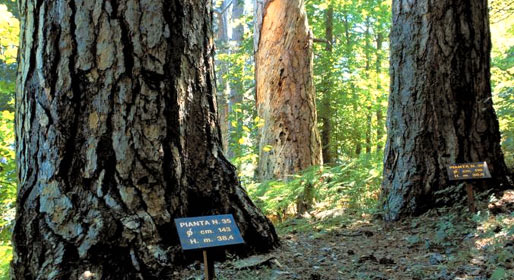 Wolves, eagles, and woods, at times so dense that they are almost impenetrable. These are just some of the treasures conserved within Calabria's National Park of Sila: one of the green lungs of Italy, which extends over some 73.000 hectares, in the provinces of Catanzaro, Crotone, and Cosenza. This nature reserve was established to protect the unique identity of a fascinating natural environment the colors of which transform, quite dramatically, according to the season: in autumn ablaze with fiery reds, oranges and golds, in winter covered by a thick blanket of white, in spring and summer bursting with infinite shades of green. The tree most associated with this part of Italy is the Calabrian Pine (pinus laricio poiret), which is so prolific that it lends an almost Northern appearance to the area, unseen anywhere else in the Italian Apennines.
The Giants of Sila
Take a walk in a 17th-century forest at Sila National Park
Get your tickets now!

The best way for visitors to experience this authentic wilderness is to follow one of the park's well-signed walking routes, such as the Sentiero Cupone: an educational trail tracing the shores of Lake Cecita. Alternatively, they might choose to join an excursion on mountain bike or horseback, or head off for a spot of cross-country skiing. The three visitor centers serve as gateways to the park, providing maps and every genre of useful information. The "Pathways for Everybody" initiative offers a series of trails suitable, not only for first time excursionists, but also for the disabled, with routes designed for both the visually impaired and those with walking difficulties.
One of the most interesting sights to be experienced in the park is that of the patriarchs of the Sila marquis: centuries-old trees of exceptional dimensions, the often curious forms of which are evidence of their incredible longevity. The Biogenetic Natural Reserve of the "Giant Pines of Sila"', also known as the Giants of Fallistro, at Spezzano della Sila in the province of Cosenza is a truly ancient pine forest, believed to have been planted here in the mid 17th century and today comprised of 56 larch trees, some of which are estimated to be over 350 years old. Visitors are free to enter the reserve (on foot only) from June to October. During the rest of the year, visits should be booked in advance (tel +39 0984 -76760). At the entrance of the reserve, an ancient 18th century spinning mill has been transformed into a charming little taverna where you can enjoy traditional regional dishes and purchase a large selection of typical Calabrian gastronomic specialties.
National Park of Sila
Tel. +39 0984 537109
www.parcosila.it