Hotels to remember: Amantea
Amantea: introduction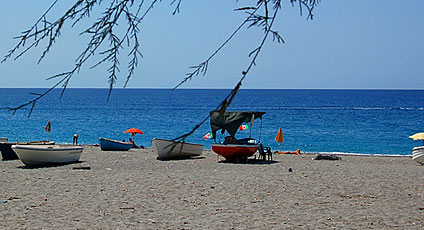 For decades, if not centuries, Amantea has been one of the most popular Calabrian tourist destinations, and the true jewel of the Tyrrhenian coast. Situated between Paola and Lamezia Terme, the town is widely known for its sites of great historic and natural beauty, not least of which the crystal clear sea which laps Amantea's fine sandy beaches.
The old center of the town, which spreads out along the slopes of a hill, is characterised by the remains of ancient fortifications, the old perimeter walls, the castle and watch towers, as well as numerous churches and ecclesiastic edifices, some as the Palazzo delle Clarisse and the San Bernardini da Siena Convent, this latter built during the late baroque period. Visitors should certainly make time for a visit to "la Grotta", bay situated beneath the historic center, which once provided the ideal landing place for all manner of boats and merchant ships.
The surrounding territory is rich in fascinating rock formations, such as the Coreca cliffs, 3kms South of the town, and the Oasi Blu dell'Isca, comprised of two large rocks, lying some 800 meters out to sea, and inhabited by numerous species of plant and marine life.
Amantea is the place where to sample a slice or two of buccunotto, a delicious chocolate cake, and the town's legendary dried figs, these prepared in every immaginable manner and according to age-old traditional recipes.
Amantea: suggestions from the hotels
Roberto Bisignano
(Responsabile)
Historical Residences

And now the 'enchanted forest', the 'magic plateau', the 'great wood' of antiquity awaits us - we are heading for the Sila! The visitor is immediately struck by the splendid alternation of wooded and cultivated land.... (Torre Camigliati) →
Amantea: gourmet addresses
Amantea: places to see in the area