Hotels to remember: Reggio Calabria
Reggio Calabria: introduction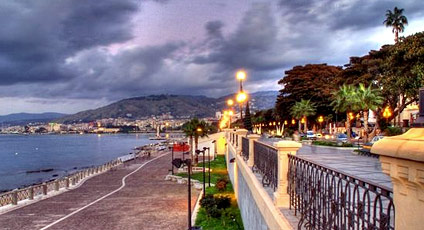 Reggio Calabria is situated on the Easter coast of the Straight of Messina, at the foot of the Aspromonte. An ancient city, founded by the Greeks, Reggio Calabria is, after Cuma, the oldest Greek settlement in Southern Italy.
To visit: the Museum of Marine Biology, the Magna Grecia Archaeological Museum, where the famous Riace Bronzes and the head of the Philosopher of Porticello are housed, the Cathedral, the Villa Antica, the Villa Comunale and Scilla, a characteristic fishing village on the Viola Coast. A walk through the fishermen's district of Chianalea, and a visit to the Castle should not be missed.
A great number of businesses are involved in the export of citrus fruits, oils, wine and wood from the Aspromonte. In the immediate vicinity of Reggio Calabria lies Nicotera, one of the oldest and most picturesque towns of the Thyrrenian Coast. Here one can visit the Museum of Sacred Art, which has a section dedicated to traditional Calabrian dress, the Cathedral, and the historic center with its "La Giudecca" quarter, historically inhabited by the Jewish community.
Reggio Calabria: gourmet addresses
More suggestions and useful addresses
Reggio Calabria: places to see in the area