Hotels to remember: Gerace
Gerace: introduction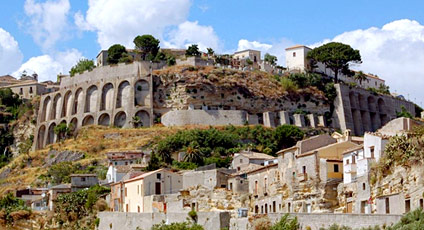 An enchanting medieval town just a few kilometers from Calabria's Ionic coast, from its hilltop position within the boundaries of the national park of Aspromonte, Gerace dominates the Valley of Locride. It is believed that Gerace (from the Greek ierax, sparrow hawk) was founded by the Saracens. An important Byzantine citadel, Gerace was later to become stronghold of the Normans. Numerous churches, monuments, and palazzi testify to the different dominations.

Among the many interesting places to visit in Gerace, there is the Cathedral of 1045, the 13th century Church of San Francesco, and the remains of an ancient Norman castle. In the Borgo Vecchio, or old town, one can still see the ancient dwellings dug out of the tufa, some of which originating from caves inhabited since Neolithic times.

From Belvedere delle Bombarde, the walkway along the old perimeter walls of the town, a fabulous view of the countryside which separates Gerace from the sea can be admired, an on towards a stretch of Calabria's Ionic coast characterised by seemingly interminable beaches lapped by crystal clear waters.
Gerace: places to see in the area