Hotels to remember: Tropea
Tropea: introduction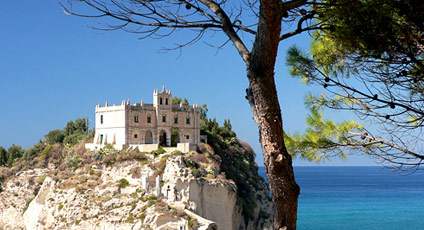 Internationally famous, Tropea is situated between the Gulf of St Eufemia and the Gulf of Gioia Tauro. The town is set on a hill known as "la rupe", at the foot of Mount Poro.
The visitor will be struck immediately by the spectacular natural landscape, by the multicoloured sea and white beaches and, in particular, the forty kilometres of coast known as the "Costa degli Dei" ("Coast of the Gods"), which is considered a true marvel of the nature.
Tropea is home to numerous Churches of great artistic, historical and religious value, these include the Norman Cathedral, the Church of St Pietro in Ripas, the Church of St Demetrio. To visit: St Leonardo's cliff, Villa Braghò, and the islet of Santa Maria on which there is the Sanctuary of St Maria dell'Isola. Amongst the events held in Tropea are the Festa della Madonna dell'Isola, the Festa della Madonna di Romania, and the "I Tri da Truci".
Tropea: places to see in the area