Palazzo del Capo
(5 Star Hotels) Cittadella del Capo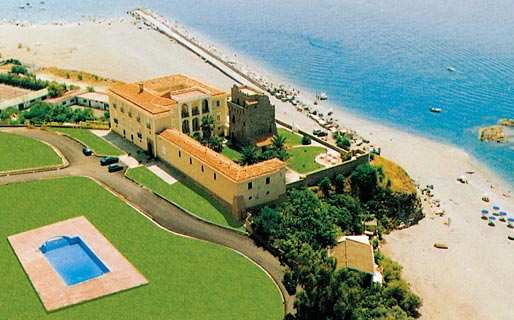 Palazzo del Capo
+39 0982 95674
Built in various phases, from the XI to the XVIII century, Palazzo del Capo, once the sumptuous coastal residence of the Dukes of De Aloe, was declared edifice of "noteworthy artistic and historic interest" in 1986. After extensive and accurate restoration work, the building opened as unique 5 star hotel, complete with superb function rooms, restaurant, and luxurious guest accommodation.
The rooms and suites of Hotel Palazzo del Capo offer the utmost in comfort; all beautifully appointed with carefully selected items of period furniture and exquisite, hand embroidered bed and bathroom linen. Guest rooms open out on to spacious balconies from where to enjoy views of the sea and the meticulously kept gardens surrounding the Palazzo.
Guests dining at Hotel Palazzo del Capo's restaurant are presented with menus featuring a superlative selection of both traditional Calabrian dishes and innovative contemporary Mediterranean and International cuisine.
Palazzo del Capo, right on the sea's edge on a coastline afforded shelter by the nearby mountains, offers visitors to this part of Calabria the opportunity to experience a vacation immersed in the culture, the art and the hospitality of bygone times in an atmosphere of rare splendor.
Palazzo del Capo
Via C.Colombo, 5

-

87020

Cittadella del Capo

(Cosenza)
Tel.

+39 0982 95674
Palazzo del Capo amenities
Outdoor facilities
Swimming pool
Garden
Beach
Private beach
Rooms
Food and drink
Events