VitaminaM
(B&B and Homes) Torino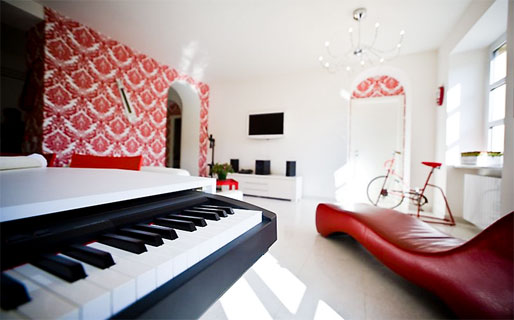 VitaminaM
+ 39 347 1526130
The smaller the better! Music, design and b&b, in Turin
Three reasons why you'll love it here

A contemporary B&B in central Turin
Art, design and hospitality in just two gorgeous rooms
Music and movies: the best, in-room entertainment ever
Exciting things happen when you combine art with hospitality. As testified by VitaminaM: a tiny bed & breakfast which has fast become the most stylish two room hotel in the whole of Turin.
Contemporary comforts
VitaminaM is an unabashedly urban retreat, ready and waiting to wow visitors, from behind the ancient facade of one of the city's historic townhouses.
The B&B's open space living room provides a stunning showcase for works by some of Italy's most talented young artists and interior designers. A well stocked library, home theater and a selection of musical instruments, guarantee the indoor entertainment.
Lounge or art gallery? VitaminaM is a classy combination of the two. If you have no idea what a tablepiano is and have yet to see a life-size Pinocchio, get ready to be amazed!

Roberta or Leslie?
VitaminaM provides unique guest accommodation in just two rooms: Leslie and Roberta. In these light-filled suites, it's the details which make the difference: a silver armchair, jazzy wall decorations, super sleek designer bathrooms, a balcony overlooking the rooftops of Turin.
Rise and shine
A morning ritual which only the foolish fail to observe, breakfast at VitaminaM is a veritable feast of freshly baked breads and pastries, accompanied by the finest Italian coffee.
VitaminaM
Via Belfiore, 18

-

10125

Torino

(Torino)
Tel.

+ 39 347 1526130
VitaminaM amenities
Rooms
Various