Land of wine and truffles
A journey to the realm of King Barolo, the undisputed leader of wines from Langhe.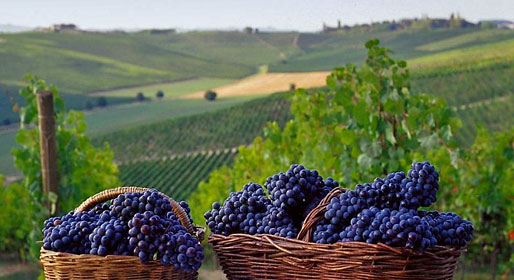 Just a few kilometers South of Turin, Asti is one of Piedmont's most elegant cities, famous for its magnificent tower houses, superb wines and spectacular Palio horse-race.
The city of a hundred towers
The historic center of Asti, where the remaining 12 of what were once 120 towers can be seen, has conserved its typically medieval radial plan, and is best visited on foot or by bike.
Asti is worth exploring not only above, but also beneath the ground; where the crypt of S. Anastasio is hidden

The city's medieval past comes back to life every third Sunday of September, when more than a thousand people dress up in elaborate period costumes and parade through the town for the historic Palio, a spectacular horse race which takes place in Piazza Alfieri.
When truffles are white
Alba is both the 'capital of Langhe and the Italian White Truffle Capital. It is here, in the second largest comune in the province of Cuneo, that a world famous truffle festival has been held, since 1929.
Famous names, such as Joe di Maggio, Alfred Hitchcock and Sofia Lauren, have all come to Alba, eager to witness the earnest sniffing, measuring and weighing of the town's, incredibly expensive, and supremely pungent fungi

The International White Truffle Fair is a not to be missed event, an occasion to taste and purchase Alba's famous truffles, but also to participate in the medieval games held in the city and in the surrounding towns and villages.
Piedmont's D.O.C Castles
South of Alba, is Roddi, a charming little town which more than merits a visit, if only to see it's splendid 11th century castle.
Built in the highest part of the historic center, where it commands views over the Tanaro valley below, the stronghold has recently been included in a selected group of eight castles within the area of Langhe and Roero, known as I Castelli Doc.
Another of the I Castelli Doc, Grinzane Cavour Castle became a symbol of the Langa del Barolo after Count Benso, the mayor of the town for some 17 years running, transformed it into a production base for the great wines of Langa.
Today, Grinzane Cavour is home to an important wine museum and an ethnographic museum which illustrates the local farming traditions.
The power of Barolo
Surrounded by vine-covered hills, Barolo has given its name to one of Piedmont's greatest wines. The town has a number of fortified edifices, which were erected to defend the area from Saracen incursions.
Castle Falletti, dating all the way back to the 10th century contains a fascinating ethnographic museum and is soon due to house a wine museum in which visitors will be able to learn about the history of the Barolo wine - a beverage which plays an essential role in the town's cultural identity.