Hotels to remember: Vasto
Vasto: introduction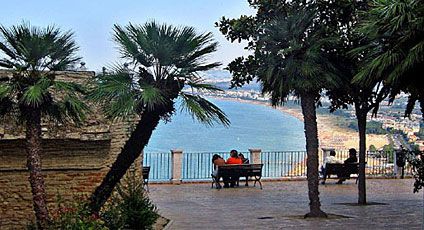 Located on the southernmost part of the Abruzzo coast, the town of Vasto is an important tourist destination, known for its colourful history, great culinary tradition and, above all, its beautiful sea.
Sites of great cultural interest abound in this old town, including the Palazzo D'Avalos, the Civic Museum, the Cathedral, and the Churches of S. Maria Maggiore del Carmine, S. Antonio, and S. Pietro. The traditional cuisine of Vasto has always been highly acclaimed.
Lovers of the sea find the longest stretch of Abruzzo's coast here, with the coast of Santa Maria della Penna and Punta Aderci to the north and, towards the estuary of the river Trigno, just east of the historic center, the beautiful sandy beach of Marina di Vasto. At Vasto there is also a large indoor swimming pool and a well equipped tourist harbour.
Vasto: places to see in the area