Hotels to remember: Isola del Gran Sasso



Isola del Gran Sasso: introduction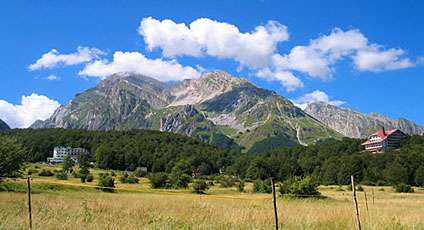 Important town of the Mavone Valley, Isola del Gran Sasso is situated in the heart of the stunningly beautiful National Park of the Gran Sasso-Laga. The name Isola del Gran Sasso apparently derives from the fact that the town is located between two rivers, thus appearing like an island.
The residential center dates back to the middle ages. In the renaissance era, Isola del Gran Sasso was governed by a series of important families amongst which the Orsini were, perhaps, the most influential. Today, Isola del Gran Sasso is known as the destination for thousands of pilgrims wishing to visit the Sanctuary of San Gabriele. There are a whole number of fractions to visit, including Villa Piano, Fano a Corno, Forca di valle, Santa Lucia, Frisoni, Collato, Casale, San Massimo, Trignano, Varano and Capsano.
The town hosts a great many events, most of which linked to the old traditions of Isola del Gran Sasso, such as the Procession of St Colomba, the festival of San Gabriele, and the biannual Sacred Art Exhibition. Of course, it would be a shame to miss Isola del Gran Sasso's legendary beer festival.
Isola del Gran Sasso: places to see in the area