The Riviera of Molise
The coast of the 'trabucchi' and an inland rich in artistic treasures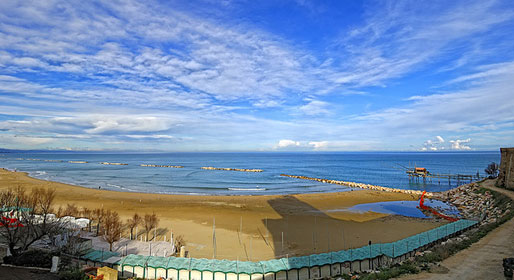 A coastline home to a succession of dazzling white sandy beaches, dotted with watch towers built so as to guard against Saracen attack and curious wooden constructions known as "trabucchi". This is the Riviera Molisana.
Castles, saints and flags
The signature town of this 35km long stretch of coast has to be Termoli, a lively sea edge town divided in two by its ancient Castle. In the "Borgo Vecchio", the part of the town situated within the old perimeter walls, visitors can observe the narrowest street in the whole of Italy and a magnificent Romanesque cathedral in which the relics of the town's two patron saints, San Timoteo and San Basso, are conserved.
Rio Vivi and Sant'Antonio, these are just two of the town's bays, the wonderfully pure waters or which have ensured Termoli be awarded the much coveted European Blue Flag.
Just off the coast, the 15° Meridian East and 42° Northern parallel intersect. Few people know that this is the point in which Italian mean time is calculated, thus constituting the Italian equivalent of Greenwich

Island hopping and fishing
From here, on a bright day, the islands of Tremiti can be clearly seen rising up out of the Adriatic sea. Boats sailing across the 25 sea miles which separate the Puglian islands from the mainland, depart from Termoli on a regular basis.
Here, a visit to the "trabucchi" is obligatory. These large wooden constructions, stretching out in to the sea like great crabs, to the "pincers" of which nets are attached, were built so as to allow fishermen to continue fishing even in the roughest of weather conditions, without them having to take to their boats.
Inland treasures
Heading inland, we find the Lake of Guardafiera: a birdwatcher's paradise. This immense artificial lake was created following the damming of a nearby river.
Not far from the lake, lies the town of Guardalfiera, the majority of the houses of which are built in the local grey stone.
Whilst in the area, travelers should make time for a trip to Casacalenda, a picturesque town overlooking the Cigno Valley.
Of all the places worthy of visit, Casacalenda's Palazzo Ducale, the Hermitage of Sant'Onofrio and the museum of Bufù, dedicated to the area's traditional musical instrument, are perhaps the most interesting

Larino and Lake Occhito
The origins of Larino date back to Roman times, when the town's amphitheatre was built. Other historic sites in the town, albeit of much later construction, include the Palazzo Ducale and the Cathedral of the Assunta and San Pardo.
A number of splendid aristocratic residences are located nearby, including Villa Zappone, built in elegant Liberty style. Just a few kilometers separate the villa and the small town of Santa Croce di Magliana, where a traditional crafts fair is held each Sunday.
Lake Occhito is another must for birdwatchers. Formed following an interruption in the Fortore river, this expanse of water is home to a great number of bird species.