Hotels to remember: Ovindoli
Ovindoli: introduction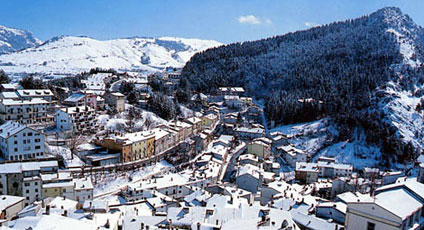 Since 1934 Ovindoli, with its ultra modern ski lifts and over 30kms of ski slopes, has represented one of Italy's most important winter tourist destinations. Every skier, from the experienced professional to the absolute beginner, will be able to find the slopes suitable for his or her level of expertise, including down hill and night time ski slopes. In the eventuality of mild winter temperatures, Ovindoli also has facilities so as to create artificial snow.
Ovindoli is not exclusively a winter destination; in the summer, the town offers the ideal climate for excursions in to the mountains and a sports center where to practise any number of sports including tennis.
The fortified village of Santa Iona and San Potito, where to see the imperial villa and ruins of a medieval castle, are fractions of Ovindoli more than worthy of visit, as are Magnola, Monte Sirente, and the Pizzo di Ovindoli. Religious buildings of note include the Church of S. Sebastiano and the Alpino Chapel. Among the events held in the town; the Festa di S. Antonio Abate, Rumori di Sottofondo and Coccovindoli.
Ovindoli: places to see in the area