Hotels to remember: Roseto degli Abruzzi
Roseto degli Abruzzi: introduction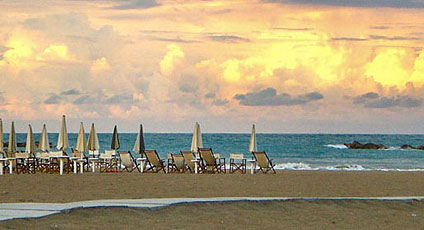 Roseto degli Abruzzi is situated between the mouth of Vomano River and that of the River Tordino and, with more than ten kilometres of sandy beaches, is considered to be one of the most beautiful bathing resorts of the whole Abruzzo coast. A good variety of hotels, restaurants, and shops have made Roseto degli Abruzzi, with its picturesque tourist harbour, a favourite seaside holiday destination.
Those in search of modern entertainment and leisure facilities will be simply spoilt for choice. For sports enthusiasts there are centers for skating, bowling, tennis, swimming, and basketball. It was in the centrally located Arena 4 Palme, that the town's great passion for basketball was born; a passion that led to Roseto degli Abruzzi becoming famous as host town for an annual summer tournament which has now surpassed its fiftieth year of age.
Among the attractions typical of Roseto degli Abruzzi, there is the great wine cask conserved in the cellar of Villa Mazzarosa De Vincenti, a cask thought to be the largest in the whole of Europe and with a capacity for a staggering one thousand hectolitres of wine. Also worthy of visit, the Villa Comunale which houses the town's art collection.
Roseto degli Abruzzi: gourmet addresses
Roseto degli Abruzzi: places to see in the area