Hotels to remember: Termoli
Termoli: introduction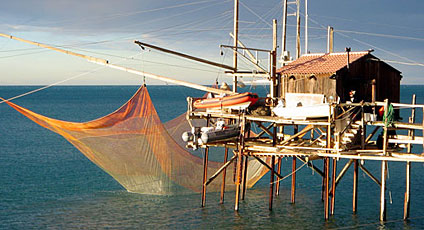 The ancient fishing village, situated on a small outcrop lapped by the Adriatic sea, is the symbol of Termoli. Within the imposing walls towering above the sea, there is the Svevo Castle, of Norman origin, thought to have been built during the reign of Federico II, and the 13th century Cathedral.
Thanks to its large sandy beach and crystal clear bathing waters, consistently awarded the European Blue Flag, Termoli has developed in to a real tourist magnet, further attracting visitors with its picturesque seafront promenade where to see fine examples of the traditional "trabucchi" fishing vessels.
During the festivities held in honor of San Basso, an effigy of the saint is transported by boat at the head of a long procession of craft. Maritime specialities such as fish soup form the basis of Termoli's excellent cuisine.
Termoli: places to see in the area