Hotels to remember: Gran Sasso
Gran Sasso: introduction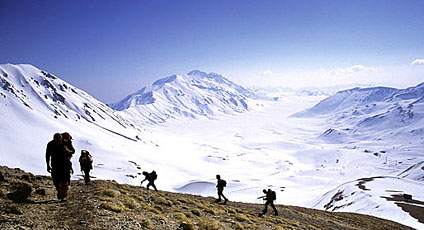 The National Nature Reserve of the Gran Sasso covers a territory between the Euro-Siberian region and the Mediterranean, encompassing a great variety of ecosystems and an infinite number of truly unique landscapes.
The wolf, the Abruzzo Chamois and the Royal Eagle all live in this area. The only glacier in the whole of Southern Europe is found here. The springs of Tronto, Trisungo, Spelonga, Civitella del Tronto, Castel Manfrino, Acquasanta Terme, the Volpaia Waterfalls, the Gole del Salinello can all be visited in this reserve which is so rich in biodiversity.
Local produce of the Gran Sasso includes Santo Stefano di Sessanio lentils, Capitignano chickpeas, cicerchia of Castelvecchio, Montepulciano d'Abbruzzo DOC wine, sheeps cheese of Farindola, Marcetto of Castel del Monte, Ventricina of Laga, Mortadelle of Campotosto, pecora pagliarola: then there is the Laga Chestnut and sweet specialties such as mostaccioli, bocconotti and fiatoni. The Aprutino Pescarese Dop oil is highly considered.
More suggestions and useful addresses
Gran Sasso: places to see in the area