Hotels to remember: S. Teresa di Gallura
S. Teresa di Gallura: introduction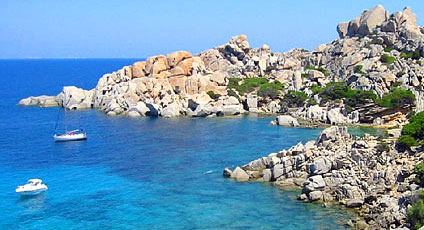 Santa Teresa di Gallura lies in the part of Sardinia which is closest to Corsica. After the war, together with the Emerald Coast, this resort became one of the most prestigious tourist destinations in Sardinia. Still called by its ancient name "Lungoni" Santa Teresa di Gallura spreads out from Piazza Vittorio Emanuele.
To visit: the Church of St Vittorio, the Museum of the Foundation, the Longosardo Tower, Palazzo Comunale, and the harbour with its bars, shops and restaurants.
There are numerous the beaches in the vicinity of Santa Teresa di Gallura such as that of Rena Bianca, La Colba, Lido Rena di Ponente or della Taltana, Cala Spinosa, la Marmorata, Cala Sambuco, Porto Liscia.
Events include the celebrations in honor of St Tommaso at Porto Pozzo, the Festa of the Foundation and the Patrons Festival.
The cuisine of Santa Teresa di Gallura includes the traditional dishes "suppa cuata", ravioli alla gallurese and the fish soup of Santa Teresa.
S. Teresa di Gallura: places to see in the area