Top 50 Sardinian beaches
A map of paradise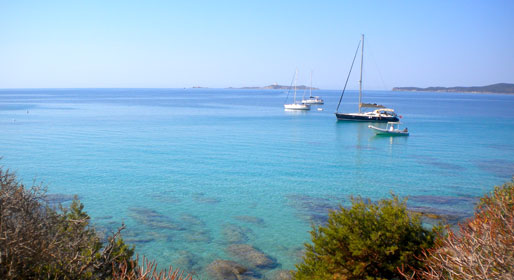 Here at Charming Sardinia, we tried to imagine what it's like to be a tourist or traveler planning his or her summer holiday in Sardinia.
The reasons to come to this much-loved Italian island are far too many to be listed but, without shadow of doubt, the biggest attraction, especially for the first time visitor, are the beaches.
Sandy beaches, rocky beaches, pebble beaches, shingle beaches. The incredibly varied Sardinian coast line is dotted with an infinite number of enchanting inlets and coves, some easily accessible, others entirely impossible to reach, unless from the sea.
Then there are the amazing colors of the water: in places brilliant green, in others so blue and transparent you'd think you were bathing in a (chlorine -free) swimming pool!

So many beaches, so little time!
As the holiday season approaches and the desire for sea, sun and ice-cream increases, we meet up to study the map of Sardinia and choose the best of the island's beaches.
It takes time, and the occasional heated discussion, to compile the list but, in the end, we manage to create a practical infographic.
It's not easy: be it for the subjective nature of the criteria used, for reasons of regional pride, or the weight of personal memories. Each of us has our own preferred area, his or her beach, the beach they always recommend to friends and foreigners and which, in a way, they consider home.
Our Top 50 is a result of all this: a list compiled according to criteria of beauty, popularity and accessibility, and just a pinch of the sentimentalism and emotion which these places inevitably provoke

Spoilt for choice
There are the famous sea resorts on Sardinia's South coast (Pula, Villasimus, Chia), the glamorous Emerald Coast (where the bikini-clad VIPs come to be seen - and photographed), the fascinating Alghero, the fashionable Stintino and the ever-popular Maddalena archipelago.
And more still:
There's the Costa Verde, south of Oristano bay. 47kms of beaches and rocky inlets, from Capo Frasca to Capo Pecora and Portixeddu, passing via Pistis, Scivu, and the dunes of Piscinas.
There's Ogliastra, the island within the island, which, thanks to its splendid geographical isolation, has conserved all of its ancient traditions and, at the same time, protected its unique landscapes and coastline.

There's the Costa di Cabras, home to Is Aruta beach, recently included in Vanity Fair's top 11 beaches on the planet.
There are the beaches of San Teodoro, Santa Teresa di Gallura, Siniscola. The list is so long, it's enough to make your head spin - which is why we decide the quickest, easiest and most useful thing to do is to create an infographic to give visitors an idea of Sardinia's best beaches ... at a glance.
Download the map of the best beaches in Sardinia.

Our Insider is
Could you be our next Insider? Share your love of Italy by contributing to ItalyTraveller! See how!