Hotels to remember: Alghero
Alghero: introduction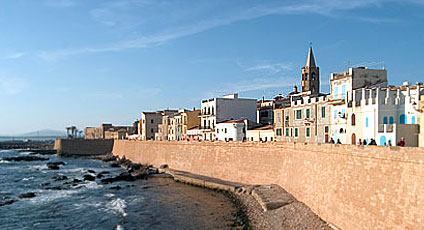 Between two contiguous bays of Rada di Alghero and Baia di Porto Conte, Alghero is situated in a glorious position which has encouraged the settlement of mankind since ancient times. Alghero is immersed in an environment perfect for nature lovers, with fauna which counts over a hundred species of animals much of which can be found in the Noah's Ark Oasis.
Its sea is spectacular with the fascinating sea beds of Punta del Giglio, Capo Caccia and Punta Ghisciera where a marine reserve can be found. The large strip of land dedicated to century old Olive groves is the subject of great admiration.
To visit whilst in Alghero: Palazzo d'Abis, Palazzo Machin, the Portal Tower, the Esperò Reial Tower, the Tower of St Jaume, the Romanesque Bastions and Fertilia Bridge.
An itinerary of great interest, is that encompassing the various ecclesiastical buildings of Alghero including the Cathedral of St Maria, the Church of the Misericordia, the Sanctuary of Valverde, the Church of St Francesco, and the Church of St Michele. Local craftsmanship features the production of ornamental objects.
Alghero: gourmet addresses
Alghero: places to see in the area