Hotels to remember: Tortolì
Tortolì: introduction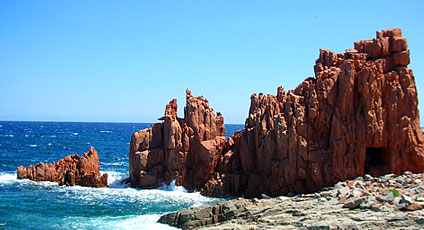 Situated between the sea and a great pool, Tortolì is the largest town of the Ogliastra region. Its flourishing economy is due to its vicinity to the Port of Arbatax, the airport and some superb beaches.
To see: the Church of St Lussurio and the Church of St Andrea. Along the streets of Tortolì visitors can admire the sculptures which are part of the "Su logu de s'iscultura" project, the town of sculpture. The "s'imbudu" ritual" is an event of ancient origins, an auction, in which he who makes the best offer gains the right to drive the Ox drawn cart with the statue of St Lussurio during the Celebrations in honor of the saint.
Within easy reach of Tortolì one finds Porto Frailis, Capo Bellavista, the Rocce Rosse, the Tower of St Gemiliano, the Orrì beach known also as the Musculedda, the Cea Beach and "Scoglius Arrubius", the red cliffs of which have become a veritable natural monument.
Delicacies of Tortoli include the "Culurgiones alla mentuccia", prepared in the bay of Orrì in occasion of the Festival of St Anna.
Tortolì: suggestions from the hotels
Patrizia Usala
(Titolare Le Stanze di Patika)
B&B and Homes

Discover and enjoy the fantastic Maria Lai's art world. Hidden valleys of old people,traditions and genuine food. Nuragical itineraries , shepards' houses trip, 4x4 quad tour with a special green guide: Olin Hood... (Le Stanze di Patika) →
Tortolì: places to see in the area