Hotels to remember: La Maddalena
La Maddalena: introduction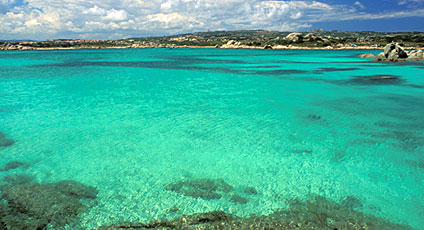 The archipelago is made up of 62 islands and islets over in area of 5.134 hectares. The principal islands of the archipelago of the Maddalena are: La Maddalena, the only inhabited island, where the town, which is more than two hundred years old, is known as the "Small Paris", and is one of the most beautiful towns of Sardinia.
Caprera, Garibaldi's island which has inlets and bays of rare beauty and which are particularly rich in flora. Spargi and Spargiotto, known for their beaches of Cala Corsara, Cala Connari, Cala Granara, and rocks and granite which have the appearance of natural sculptures. Budelli, famous for its pink Beach, now totally protected.
Razzoli and Santa Maria, joined by the "Donkeys" Pass are islands known for their imposing cliffs and the lighthouse which dominates the Bocche di Bonifacio. Porto Madonna, with its emerald green sea is one of the most enchanting locations of the National Nature Reserve of the Maddelena.
Nibani, Mortorio, Soffi and Camere are islands and islets situated opposite the Emerald coast close to Porto Cervo and Porto Rotondo.
La Maddalena: places to see in the area