Hotels to remember: Budoni
Budoni: introduction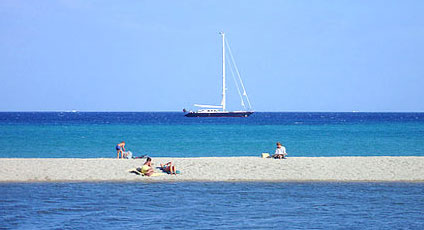 Budoni lies approximately eleven kilometers from San Teodoro. This small town has developed over time because of the tourist industry. Budoni fame is due to its crystal clear water, and this coast, with its sandy shore, has become known as the "Caribbean beaches".
Travelling from San Teodoro, one arrives at Porto Ottiolu, a well equipped tourist port which enjoys a splendid position protected from the winds.
Budoni is made up of a main street, from which a number of narrow lanes lead Eastwards to Cala Budoni, the town's main beach. South of Budoni, beyond the district of Tanaunella, one comes to the Village of Baia Sant'Anna which, in addition to its spectacular sea has a dense pine wood sheltering numerous ponds and reed thickets.

This natural environment provides a habitat for numerous species of animals, including a great variety of birds, the most famous of which is the flamingo.
Budoni: suggestions from the hotels
Paradise Resort
(-)
4 Star Hotels
This area is a treasure of beauty made of paradisiacal beaches, areas of special natural, archaeological sites and paths of wine. To explore with tranquility: the children can continue to enjoy the kids club! (Paradise Resort Sardegna) →
Budoni: places to see in the area