Hotels to remember: Baja Sardinia
Baja Sardinia: introduction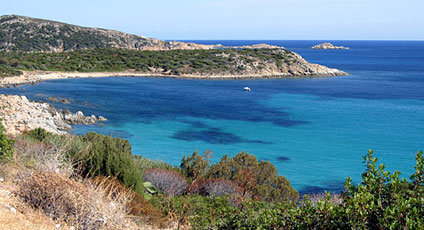 Baja Sardinia is an exclusive tourist destination, situated in a large bay,with sandy beaches, beside a crystal clear sea. This part of the coast is famous as an "aquatic park". It is an excellent location in which to play tennis, sail, canoe, and windsurf. The surrounding sea bed provides a spectacular environment for scuba diving.
Night time entertainment at Baja Sardinia is guaranteed with discotheques, colourful shop windows, and evening markets where one can buy traditional Sardinian articles. Almost daily, in the center of Baja Sardinia visitors can enjoy dances, theatrical performances and singing.
Within easy reach lies the peninsula of Capo Ferro with its lighthouse and Bisce island which is part of the National Reserve of the Archipelago of the Maddalena.
Excursion enthusiasts should not fail to make the trip to Colle Battistone to admire the numerous granite "sculptures". Towards the end of Baja Sardinia one reaches the splendid sandy shore of Cala Battistone.
Baja Sardinia: places to see in the area