Hotels to remember: Arbatax
Arbatax: introduction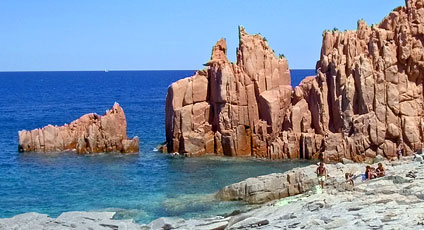 On the promontory the summit of which is dominated by the lighthouse of Capo Bellavista, Arbatax perches on the cliffs edge, along the coastline where one finds Cala Moresca, inlet with a spectacular sea, the Rocce Rosse whose red color is created by the presence of porphyry. Ancient fishing center, Arbatax boasts great beauty pervaded by blissful tranquillity.
In the vicinity of the Capo Bellavista Lighthouse one finds a small panoramic square which enjoys a view of the coast of Arbatax as far as Capo Monte Santo and the Islet of Ogliastra. The small beaches of San Gemiliano and Capo Monte, Sos Florea and Orrì are quite enchanting.
To see: the Tower of San Michele in the center of Arbatax and the Tower of St Gemiliano, the Church of St Gemiliano, the Church of St Lussorio, and the Church of St Salvatore, the three churches at the heart of a number of local traditions.
Among the events one of the most important is "Rocce Rosse & Blues", in the small fishing port in the Rocce Rosse locality.
Arbatax: suggestions from the hotels
Patrizia Usala
(Titolare Le Stanze di Patika)
B&B and Homes

Discover and enjoy the fantastic Maria Lai's art world. Hidden valleys of old people,traditions and genuine food. Nuragical itineraries , shepards' houses trip, 4x4 quad tour with a special green guide: Olin Hood... (Le Stanze di Patika) →
Arbatax: places to see in the area