Hotels to remember: Ferrara
Ferrara: introduction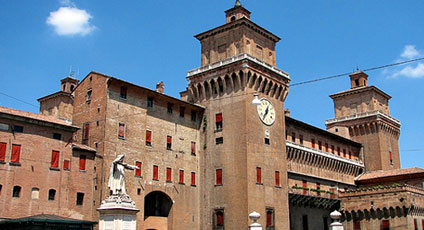 Ferrara is situated in the heart of the Padana planes. The city has been awarded UNESCO status because of the perfectly intact historic center. Here visitors can experience the atmosphere of the Renaissance past.
The sites to visit are endless: Estense Castle, the Monastery of Corpus Domini, the Monastery of St Antonio in Polesine, Ferrara Cathedral, the Jewish Cemetery, the House of Ludovico Ariosto, Palazzina Marfisa d'Este, Palazzo Massari, Palazzo Schifanoia, Palazzo Turchi di Bagno, Palazzo di Ludovico il Moro, Palazzo Bonacossi, Palazzo Roverella, Palazzo di Renata di Francia, Palazzo di Giulio d'Este.
Among the Museums to visit: the Documentation Agricultural World Centre, the Museum of the Unification and Resistance, the Filippo Pisis Museum of Modern and Contemporary Art, The Biblioteca Ariostea, The Michelangelo Antonioni Museum.
Ferrara: gourmet addresses
Ferrara: places to see in the area