Hotels to remember: Rimini
Rimini: introduction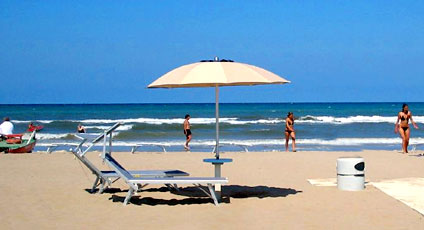 Surrounded by hills, bathed by the waters of the Adriatic Sea, and positioned to the extreme South of the Padana planes, Rimini has, since the 1800s, been known worldwide as a seaside resort and the capitalof both day and night time entertainment.
In the surrounding undulating countryside there are many hill top villages amid a patchwork of cultivated fields. Rimini is made up of the historic center and the seafront area.
A number of sites testify to the city's rich history: Malatestiano Temple, the Borgo of San Giuliano, the Tiberio Bridge, Palazzo dell'Arengo, the Town Theatre, Palazzo del Podestà, the Museum of Extraeuropean Culture, the City Museum.
Events which are held in the town include: Meeting per l'amicizia fra i popoli, Giornate Internazionali di Studio del Centro Pio Manzù, the International Riminicinema Festival and the Malatestiana fair.
Local dishes well worth tasting are cappelletti al formaggio, tagliatelle al ragù, stuffed pidgeon, le ciambelle, frittelle, castagnole e piadine.
Rimini: gourmet addresses
Rimini: places to see in the area