Hotels to remember: San Marino
San Marino: introduction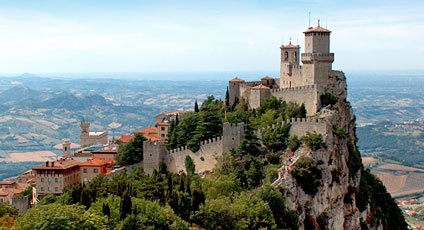 San Marino is sited on the boundary between Romagna and the Marche, in a terrain which is predominantly rocky. This independent Republic, in the heart of Italy, has over 1700 years of history. It is one of the smallest states in the world and the oldest European Republic. San Marino's economy relies primarily on its tourist industry and the production of postage stamps.
The Republic has a number of Nature Reserves including Pineta di Montecerreto, Parco Zona Ca Lentino, Parco Aiala and the Parco Naturale di Montecchio.
The architecture of San Marino is of great historical and artistic importance with buildings such as Palazzo del Governo, the Castle of Guaita, the Museum of the Immigrant, the Museum of Torture, the Ferrari e Abart Museum, the Church of St Francesco, the Church of the Cappuccini, the Basilica del Santo, the Modern Weapon Museum, the Classic Car Museum, the Wax Museum, and the Curiosity Museum.
Events of note include the harquebus and crossbow competition held on the Founding Saint's day. Local cuisine uses the Republics own DOC oil and wine.
San Marino: gourmet addresses
San Marino: places to see in the area