Hotels to remember: Comacchio
Comacchio: introduction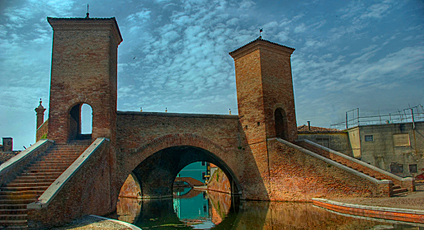 Situated between the provinces of Ravenna and Ferrara, Comacchio is a typical Italian lagoon town, crisscrossed by a network of bridges and canals, and lined by ancient palazzi all of which sporting colourful painted façades.
The town's most celebrated work of architecture is the Trepponti bridge, a construction which dates back to 1634, formed by two towers and five flights of steps (two front and two back), each of which spanning a canal. Also worthy of visit: the Contemporary Art Gallery, Library and the Historic Archive, all housed within Palazzo Bellini; the Loggia dei Cappuccini, with its staggering 142 arches; and the 13th Century Cathedral of San Cassiano.
Comacchio, just a short distance away from the Riviera Romagnola, lies within easy reach of the nature reserves of the Po Delta Park - to be explored by foot, bike or boat. The Salina of Comacchio, north east of the Valli di Comacchio, is a 600 hectare reserve and a true paradise for birdwatchers, many of whom come here especially so as to observe the pink flamingos which inhabit the wetlands.
The economy of Comacchio developed principally around eel fishing, once practiced using the "lavoriero": a complex system of communicating basins. Not surprisingly, eel is also the main ingredient in many of the Valli di Comacchio's most highly prized gastronomic specialities.
Comacchio: suggestions from the hotels
Patrizia Poggi
(Resident Manager)
4 Star Hotels

This oasis of peace is full of charm and is surrounded by some of the most beautiful art towns of the Emilia-Romagna region: Ravenna, Faenza, Bologna,Ferrara, the Po Delta and vibrant Adriatic Sea. (Relais Villa Roncuzzi) →
Comacchio: places to see in the area