Hotels to remember: Reggio Emilia
Reggio Emilia: introduction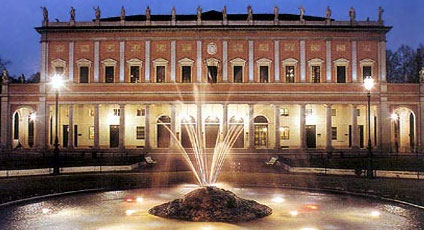 Reggio Emilia is famous as a city specifically built to fulfill mans needs. The city is situated along Via Emilia between the Province of Modena and that of Parma.
It is famous for its green areas, numerous parks and botanical gardens. The parks of particular interest are the Oasis of Marmirolo, protected by the WWF and LIPU, and the Parco del Gigante which covers Monte Prado, Monte Cusna and the Succiso Alps. Examples of the town's artistic heritage can be found in buildings such as the Benedetto Cloisters, the Cloisters of St Pietro and the Cloisters of St Domenico.
The visitor should not fail to visit the Cathedral, the Basilica of St Prospero, the Church of St Girolamo and St Vitale, the Basilica of the Beata Vergine della Ghiara.
The most important events held in the town are: the celebrations of the Patron Saint St Prospero and the Canossiana Historical re-enactment. The cuisine of Reggio Emilia is of great reknown and features internationally famous products such as The Reggiano Parmesan cheese, Erbazzone, Cappelletti, Tortelli di Zucca, Lambrusco Wine, Rice Cake and Spongata Reggiana di Brescello.
Reggio Emilia: gourmet addresses
More suggestions and useful addresses
Reggio Emilia: places to see in the area