Hotels to remember: Fidenza
Fidenza: introduction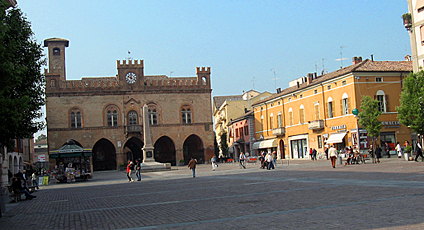 Despite it developing over the centuries in to the largest town in the province of Parma, Fidenza has maintained all its historic charm. Of all the town's buildings, its Cathedral is, without doubt, the most impressive; outshining even those of the nearby cities of Piacenza, Parma and Modena. This splendid Lombard Romanesque edifice was erected in 12th century and dedicated to Domninus, patron saint of the town.
Designed by Benedetto Antelami (man also responsible for the sculpture of the Madonna and Child on display in the crypt), the Cathedral was one of the principal sites of worship for pilgrims travelling on the Via Francigena road. It was Fidenza's location on the pilgrim route which largely determined the town's rapid expansion. The head quarters of the European Association of the Vie Francigene are situated in Fidenza.
Fidenza, is also home to the Fossil Museum of Fidenza and Salsomaggiore Terme, located in Palazzo delle Orsoline. In the immediate vicinity of the town there is the Stirone River Park, where to observe a great variety of flora and fauna and a spectacular "canyon", formed by the erosive forces of the river.
Fidenza: gourmet addresses
Fidenza: places to see in the area