Hotels to remember: Salsomaggiore Terme
Salsomaggiore Terme: introduction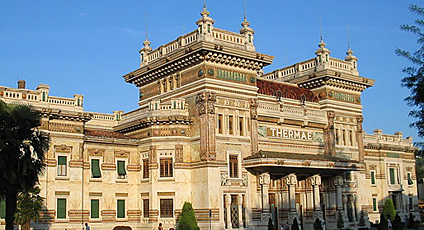 It was not until the 19th century that the development of Salsomaggiore Terme really began; time when the health inducing properties of the town's thermal waters, some of the saltiest in this part of Emilia Romagna, were discovered. Situated forty kilometers away from Piacenza and a mere thirty minute drive from Parma, Salsomaggiore has since become synonymous with wellness and beauty on a world wide scale, and thus the natural choice of location for the annual coronation of Miss Italia.
The Berzieri Baths are emblematic of Salsomaggiore. Almost ten years were necessary to complete this stunning Liberty Style edifice, finally inaugurated in 1923. The town is characterised by a great number of parks and gardens. Recreational facilities abound, including various sport centers and an 18 hole golf course. Salsomaggiore is also home to a prestigious conference center.
On the third floor of what was once the Grand Hotels des Thermes, there is now the "Ancient Sea" Paleontological Musuem, in which to observe a fascinating collection of fossils testifying to the evolution of the paleo-environment that accompanied the retreat of the sea from the Po river basin.
Salsomaggiore Terme: gourmet addresses
Salsomaggiore Terme: places to see in the area