Hotels to remember: Cento
Cento: introduction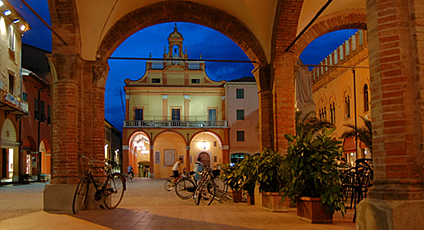 Cento, situated right in the middle of the three wealthy provinces of Ferrara, Bologna and Modena, is a medieval town famous both for its beautifully conserved artistic treasures and for being the host town of the Carnival of Europe, twinned with the Brazilian carnival of Rio de Janeiro.
In the historic center of the town we find the Church of SS Rosario, a masterpiece of local baroque architecture, Casa Pannini, and Casa Provenzali, this latter containing frescoes by Giovanni Francesco Barbieri, better known as il Guercino. The most important works of 17th century art are displayed in the Civic Art Museum situated in the Palazzo del Monte di Pietà. In the summer, the Castle constructed by the bishop of Bologna in the 14th century, provides the enchanting venue for a series of concerts and theatrical performances.

In Cento, as in other towns within the province of Ferrara, local culinary traditions continue to play an important role in every day life. Traditional dishes to be enjoyed in Cento include 'cappelletti in brodo' and 'salama al sugo'. Just beyond the town lies the Benedictine Abbey of Nonantola, a fine example of Lombard Romanesque architecture.
Cento: places to see in the area