Hotels to remember: Riccione
Riccione: introduction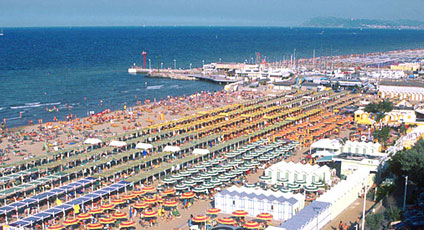 Riccione is known, above all, for its vibrant club scene: a place where to listen and dance to every type of music in the company of any number of Italian and international celebrities. In the summer months, almost 150 bathing establishments provide both live musical entertainment and excellent sports facilities for the floods of holiday makers heading to the beaches of the Adriatic.
From late afternoon until the early hours of the morning, Riccione's town center buzzes with tourists attracted by the shops but also by the numerous ice-cream parlours, bars, pubs and restaurants which line Viale Ceccarini.
Visitors immune to the appeal of Riccione's world-famous discotheques, will find it hard to resist that of the town's superb hotels, a great number of which offer state of the art spa facilities as well as top class restaurants and large outside swimming pools where to soak in the sun or relax in the shade offered by the traditional beach umbrellas for which the town is famous.
Riccione's Territory Museum, which houses a fascinating section dedicated to the region's geographical history, is well worthy of visit.
Riccione: gourmet addresses
Riccione: places to see in the area