Hotels to remember: Cesenatico
Cesenatico: introduction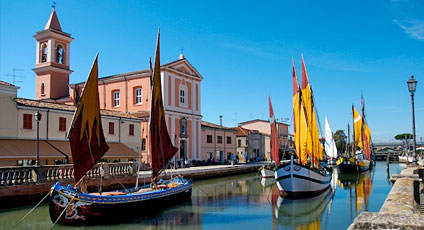 Leonardo da Vinci was commissioned to improve the port of Cesenatico. Today the ancient fishing village still owes its prosperity to that small harbor (Porto Leonardesco).
The heart of Cesantico is still Porto canale, where the monument in honor of Giuseppe Garibaldi, the Pretoria tower, Piazze delle Conserve with its ancient ice works, and the Fishing Museum can be seen.
Other monuments include the Church of St Nicola, the Church of St Giacomo, the Antiquarium, Casa Moretti, the Town Theatre.
Of interest to the visitor, the numerous events and celebrations held in Cesenatico such as the gastronomic fairs, the Agricultural producers Market, the Flee market, the Cuccagna del Adriatico and the Fishermans Nativity Scene. Cesenatico is best known for its maritime cuisine and the many small restaurant famous for their superb fish dishes.
Cesenatico: suggestions from the hotels
Patrizia Poggi
(Resident Manager)
4 Star Hotels

This oasis of peace is full of charm and is surrounded by some of the most beautiful art towns of the Emilia-Romagna region: Ravenna, Faenza, Bologna,Ferrara, the Po Delta and vibrant Adriatic Sea. (Relais Villa Roncuzzi) →
Cesenatico: gourmet addresses
Cesenatico: places to see in the area