Hotels to remember: Bagno di Romagna
Bagno di Romagna: introduction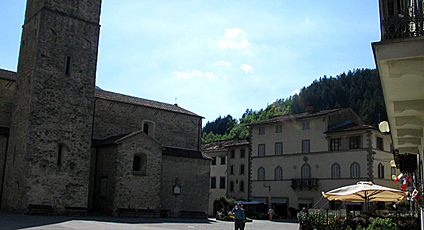 On the slopes of the Tuscan-Romagna Appenines, Bagno di Romagna is a delightful little town immersed in a stunning natural landscape. A holiday in this part of Emilia Romagna, on the boundary with Tuscany and not far from Umbria, is likely to include a few hours, if not days, passed in one of the town's three spas, where to enjoy treatments performed using the Bagno di Romagna's famous thermal waters.
The health inducing benefits of the spa therapies are further enhanced by a walk through the National Park of the Casentino Forests, Mount Falterona and Campigna, or the forest of La Lama, situated some 699 meters above sea level, and home to a great variety of flora and fauna.
The thermal springs certainly played a major role in the town's development, but it was Bagno di Romagna's vicinity to the Via Francigena pilgrim route which ensured its Europe-wide fame. The nearby town of Mercato Saraceno, in the province of Forli-Cesena, is a historic pilgrim destination where, to this very day, in the month of august, the Palio del Saraceno is contested. Other sites well worth visiting include the late medieval Church of Saints Cosma and Damiano and the ancient Church of Monte Sorbo.
Bagno di Romagna: gourmet addresses
Bagno di Romagna: places to see in the area