The Dukes and the Delta
Art, history and nature in the province of Ferrara.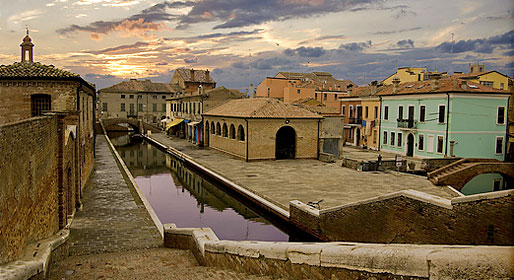 As the locals will tell you, there is no better way to explore the beautiful Renaissance city of Ferrara, almost entirely closed to traffic, than by bike.
Ferrara by bike (and donkey)
We make our first stop at Ferrara's magnificently conserved, moated castle, from where the all-powerful d'Este family once exercised their rule over the city and surrounding territories.
North of the castle, Corso Ercole I d'Este, the road named after Ercole I, leads all the way to the Porta degli Angeli and the city's impressive periphery walls, passing by Ferrara's Palazzo dei Diamanti which owes its name to the 8500 pink and white diamond shaped marble ashlars inserted in its façade.
The central Piazza Savonarola and the 2km long arched Via delle Volte, in the city's medieval quarter, should not be missed.
At the end of May each year, Ferrara hosts a spectacular Palio, considered to be the oldest in the world, complete with costumed parades, flag throwing and horse and donkey races contested between the various contradas

Urban utopia, natural perfection
Tresigallo is a small town with a population of circa 5000 people. An experimental urban project, the town was constructed in 1930 according to rationalist architectural principals, and is often referred to as the City of the 20th century.
In the Po di Volano Nature Reserve you'll find numerous foot and cycle paths, created so as to allow visitors to best admire the incredible variety of plant and bird species in the Po Delta park.
Art abbey
Not far away, in the proximity of Codigoro, lies the Abbey of Pomposa. Founded by Benedictine monks around about the year 1000, Pomposa is one of Italy's most impressive monastic complexes, complete with 48 meter high bell tower, in which inserts of ceramic bowls from various parts of the Mediterranean can be seen.
The refectory next to the Basilica contains three well conserved frescoes dating back to the 14th century.
Didactic castle
From Pomposa, traveling back along the old Romea road, we reach Mesola, town in the province of Ferrara where the d'Este family had their summer residence.
On the second floor of the 16th century Mesola Castle, there is a Center of Environmental Education, which serves as one of the Regional Park of the Po Delta visitor centers, where to find purpose built itineraries, libraries, and workshops.
Little Venice
Traveling south, we come to the peaceful lagoon town of Comacchio, fondly known as little Venice for its intricate network of canals and bridges.
From Comacchio, visitors can make an excursion by motorboat along the Po Delta or join one of the boat trips through the Comacchio Valleys

The area is still dotted with numerous casoni: large huts traditionally used either as fishing or ambush stations.