Hotels to remember: Carpi



San Giovanni in Persiceto
Carpi: introduction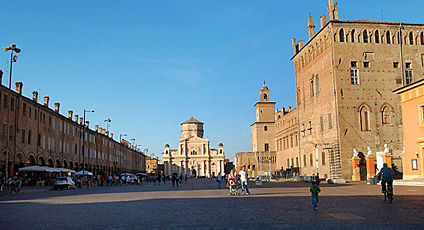 Situated in the vicinity of Modena, Carpi is one of the liveliest commercial towns in Emilia Romagna, counting an elevated number of textile manufacturers, amongst the most important in the whole of Italy. A journey discovering the art and history of this wealthy town might easily start in Carpi's splendid 15.000sqm Piazza dei Martiri.
Overlooking the piazza there is the Palazzo dei Pio, also known as the Castello, or Castle, the town's neo-classical theatre, the Palazzo Comunale, the Cathedral of the Assunta and the Passerino tower, the northern wing of which features Ghibelline embattlements. Legend has it that the tower is inhabited by the ghost of the White Lady, murdered by her jealous husband - one of the Lords of Pio - who once governed the town. On the opposite side of the piazza, there are the 52 arches of the Portico Lungo, of late medieval origin.
Carpi represents the heart of the Po River plain, in both geographical and gastronomic terms. This is where to savour fabulous fresh pasta (including the cappelletti and tortelli, typical of the province of Modena), and the classic cotechino and zampone. Just a few kilometers from Carpi, lies the town of Novellara and the fascinating Gonzaga Museum.
More suggestions and useful addresses
Carpi: places to see in the area