Hotels to remember: Piacenza
Piacenza: introduction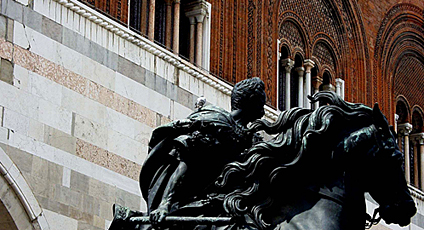 Situated almost on the border with Lombardy, Piacenza offers that pleasant combination of art, culture and good food, which characterises great part of the towns and cities of Emilia Romagna. Lining the streets of the historic center, any number of patrician town houses can be seen, the grandiose entrances and renaissance stairways of which serve as reminder of the city's glorious past when, with Parma, Piacenza constituted an important Dukedom.
Of these aristocratic residences Palazzo Farnese deserves a special mention. The Palazzo is, in fact, home to a whole group of Museums: the Civic Museum, Art Museum, Archaeological Museum, and Carriage Museum, this latter containing a quite unique collection of horse drawn-vehicles, some of which dating back to the 18th century. In the center of Piacenza, lies the octagonal shaped Piazza Duomo, dominated by the Basilica dell'Assunta: a fabulous combination of Gothic and Padana Romanesque architecture.
In this part of Emilia Romana, the same charming hospitality offered by the people of Piacenza can be found in the valleys of Trebbia and Tidone, and in particular, along the wine road through the Colli Piacentini, where a number of the region's beautiful castles have been transformed in luxury hotels. Food lovers will not be disappointed either: this, after all, is the land of the "coppa piacentina" salame and a whole host of other gastronomic specialities.
Piacenza: gourmet addresses
Piacenza: places to see in the area