Hotels to remember: Parma
Parma: introduction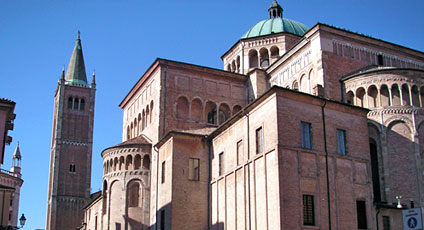 Situated half way between Milan and Bologna, Parma was once the Capital of the Duchy of Parma. There is much to interest the visitor in this city which is rich in cultural traditions and artistic masterpieces, for example Palazzo Vescovile, the Cathedral, Palazzo della Pilotta, the Baptistery, Palazzo Ducale, the Steccata Church, the Paradigma Charterhouse, the Regio Theatre, The Italian Perfumery Museum, the Stuard Art Museum, the Farnese Theatre, and the Palatina Library.
There are numerous castles, such as those of Torrechiara, Felino, Montechiarugolo, Bardi, Varano-Melegari, Colorno, San Secondo and Compiano. In the enchanting countryside of the Parma Penines, which surrounds the city, are the Regional Nature Reserve, the Carrega Woods, and the River parks of Taro and Stirane.
Parma is known throughout Europe as "the Food Valley" because of its Internationally famous products, such as Spalla cotta calda, Salame Felino, il Culatello, il Prosciutto di Parma and Parmigiano Reggiano. Local dishes include tortelli di erbette, bomba di riso and buzéca.
More suggestions and useful addresses
Parma: places to see in the area