Hotels to remember: Modena
Modena: introduction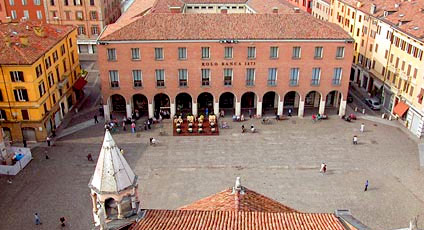 Sited on the via Emilia, Modena has, since the days of the Roman empire, been an important agricultural center. This enchanting town is known Internationally because of its proximity to Maranello, head quarters of Ferrari, and also for being the home of one Italy's most illustrious Military Academies.
The countryside around Modena encompasses the Nature Reserve Salse di Nirano. Modena has many sites of artistic and cultural interest, such as Modena Cathedral, the Tower of the Ghirlandina, the Lapidario Museum, the Church of St. Pietro, the Church of St. Agostino, Palazzo Ducale, the Duchi d'Este Library, the Civic Museums and the Estense Gallery.
Events of particular importance organized in the town include: the Modena Antiques Show, Pavarotti International, the Theatre Festival, the Estense Week and the Quintana Fair.
Gastronomic produce of International fame includes prosciutto crudo and zampone, balsamic vinegar, Trebbiane grapes, tigelle, Bensone, Nut liquor and Lambrusco Wine.
Modena: gourmet addresses
More suggestions and useful addresses
Modena: places to see in the area