Hotel Castello Orsini
(5 Star Hotels) Nerola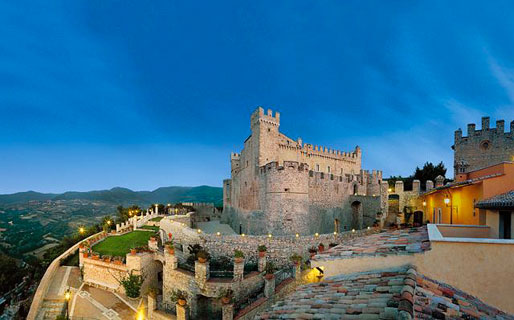 Hotel Castello Orsini
+39 0774 683272
Medieval magic in a 5 star castle!
Three reasons why you'll love it here

Sleep in a suite fit for a King (or queen!)
Events to remember, in a medieval castle
The views of the Tiber valley from the pool
An ancient castle dominating the Tiber valley. History, myths and modern luxury entwine at Castello Orsini, a medieval masterpiece in the countryside of Sabina, just beyond the walls of Rome.
At home with the Orsini
Part period residence, part luxury hotel, Nerola's Orsini Castle was once the palatial residence of noble families the likes of the Borgia, Barberini, della Rovere and, of course, the all-powerful Orsini.
Now a 5 star hotel, Castello Orsini provides guest accommodation in 51 beautifully appointed suites, in the main body and in the towers of the castle, the Borghetto dei Lecci, the Scuderie and the Villino Salimei.
Relaxation, beauty and fitness in the woods
The panorama which greets guests from the castle's magnificent heated swimming pool and solarium is breathtaking: from the terraces, sweeping views of the Tiber valley and the countryside of Sabina can be seen. In the winter months, the pool is protected from the elements by a sliding roof: allowing all year round swimming.
When they are not lazing in the sun by the pool, guests might easily be found in Castello Orsini's Beauty Farm, indulging in the spa's exclusive face and body treatments or bathing in the thermal baths. Fitness fans can choose to work out in the gym or in the grounds of the castle, following the specially designed route which winds its way through the woods.
Castle weddings
If you're looking for a fairytale location in which to celebrate the most important day of your life, you've found it!
The saloon, drawing rooms, panoramic terraces and garden: each and every corner of the castle provides the perfect setting for romance.Then there's the music, the flowers, the torches and the sumptuous receptions: everything you could possibly need to make your dream wedding come true.
Of course, you don't have to get married to hold a party at Orsini Castle, which is a much sought-after location for glamorous gala dinners, high profile banquets, and big birthday celebrations too.
"Antiche Cucine", "Sala dei Cavalieri", the garden terrace, the "Cappella degli Orsini": you'll love the choice of dining venues at this magnificent medieval castle!

The round table
Sala Rossa, Sala Blu, Grande Sala Plenaria: Castello Orsini has three fabulous function rooms in which to host conferences, seminars and business meetings for 50 to 150 people.
Impeccable service, state of the art technology and a truly unique setting: all you need to make your event a truly unforgettable one.
Hotel Castello Orsini
Via Aldo Bigelli, snc

-

00017

Nerola

(Roma)
Tel.

+39 0774 683272
Fax

+39 0774 683107
Hotel Castello Orsini amenities
Outdoor facilities
Rooms
Free Wi-fi
Air Conditioning
Room service
Minibar
Safety deposit box
Satellite TV
Wellness
Gym
Wellness treatments
Massages
Food and drink
Restaurant
Cocktail bar
Cooking courses
Events
Meetings
Conferences
Weddings
Various
Car park
Laundry
Shuttle service (airport / city center / beach)