Slow spa
Discover the art of relaxing in Romagna, at the Oste del Castello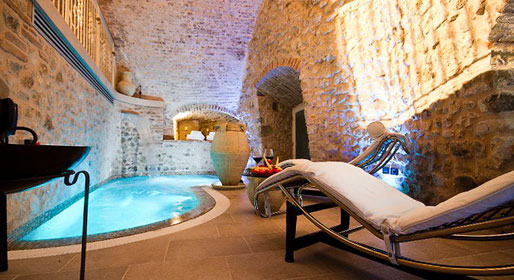 Few Italian regions are quite as varied as Romagna. There's the effervescent coastal Romagna, famous for its vibrant nightlife, its lively beaches, and its shop-lined seafront promenades; and then there's romantic, inland Romagna, scattered with historic hilltop hamlets, ancient castles and peaceful little towns, where you can experience the simple, slow pleasures of life.
A "slow" town with view of Valmarecchia
Perched on a great spur of rock which dominates the Marecchia valley and guarded by the imposing Rocca Malatestiana, Verucchio is a 'slow' destination par excellence. Verucchio is within minutes of the first peeks of the Appennines, the towns of San Leo, Torriana, Pennabilli, Santarcangelo and of the shimmering sea. It is the perfect base from which to explore Romagna and to experience the region's art, history, culture and cuisine.
Located in the historic center of Verucchio, Oste del Castello occupies a finely restored 18th century residence, oozing with the authentic old world charm which distinguishes the town

Verucchio's fairytale aura is at its most atmospheric in the quiet, off-season months; making late autumn, winter and early spring the ideal time for a magical escape!

Wellness cave
A session in the Grotta del Benessere is often the highlight of a holiday at the Oste del Castello. Created in the ancient tuff caves which characterize underground Verucchio, this unique spa offers an enticing menu of holistic-inspired massages and wellness treatments.
Ayurvedic massages and Kerala technique
Based on the principals of Ayurveda, the Maharishi massage is designed to restore natural balance, according to each individual's unique personality.
The Indian Kerala massage purifies the body and reduces fatigue whilst stimulating the nervous system, via manual manipulation and the use of medicinal oils.

Antistress treatments to restore natural balance
Using Bach flowers, the "Antistress Caress"' treatment restores "embryonic" energy: that initial energy which allowed us to be born and enables us to achieve optimum psycho-physical balance.
The "Aroma Antistress Massage" ia a synthesis between East and West, between Indian techniques and Californian massage and rolfing. The aim of the massage is to work on various levels: deep relaxation, sleep quality and the immune system.
Looking for an unforgettable venue in which to savor the specialties of Romagna, at leisure? You'll love Oste del Castello's Al Mastin Vecchio restaurant!

Oste del Castello
Via dei Martiri, 10 - 47826 Verucchio (Rimini)
Tel. +39 0541 679308