Riviera Romagnola
Days spent basking on the beach, evenings out on the town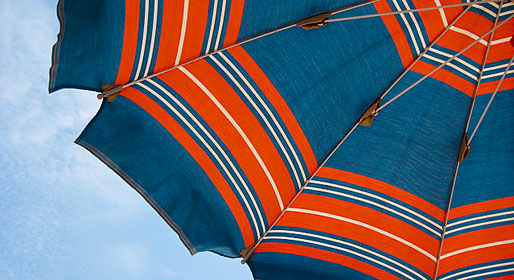 A great destination for an Italian seaside holiday, the towns on the Riviera Romagnola are packed with every kind of hotel, restaurant, bar and beach club, all of which are within steps of the sea.
Cattolica, where this tour begins, is no exception. The aquarium,home to thousands of marine species, is the town's biggest attraction.
Coastal and inland Romagna
From Cattolica the road follows the Adriatic coast to reach two of the Riviera's favorite tourist resorts, Bellaria and Igea Marina.
In Bellaria you can shop in the fashionable Isola dei Platani shopping mall amidst vibrant subtropical flora; visit the Torre Saracena, built in 1673 to ward off pirate attacks, and stroll around "Old Port", which is still a lively fishing harbor.
Drive inland for a few kilometers to reach the towns of San Mauro Pascoli, (birthplace of the poet Giovanni Pascoli) and Savignano sul Rubicone, on the Rubicon River. The Rubicon was the old boundary between Roman and Gallia Cisalpina territories.
Leonardo's canal
Returning to the sea, you come to Cesenatico. Go to see the fishermens' district, with its colorful little houses. Prior to the tourist boom, the mainstay of life here was fishing and, in particular, fishing for eels, mussels, clams and squid (all of which feature in the local cuisine).
Constructed in 1502, Cesenatico's canal, was commissioned by Cesare Borgio and designed by Leonardo da Vinci

Salt mines and dance clubs
North of Cesanatico, the town of Cervia is famous for its salt. Historically, Cervia's salt was obtained from the nearby marshland, which has now become a nature reserve, accessible from the Salaria road.
At the Camillone salt mine and 17th century salt workings a "salt museum" illustrates the techniques of production and of transport using flat-bottomed boats known as burchiella.
Cervia's Milano Marittima is a short distance away. The resort was created in the 20th century as a new sort of leisure facility, and is now one of the area's most popular night spots, home to any number of dance clubs.
Just want to relax? You'll love Savio, Classe, Dante and Adriano. Near Classe you will find the Classe Pine Forest, 900 hectares of trees, including holm and bay oaks, pine and hornbeam. There are picnic places and trails to follow on foot or by bike.
For family fun, head to nearby Mirabilandia - Italy's answer to Disneyland

Beach and spa
The famous Ravenna Marina marks the end of this tour. Here, on the beaches, music is played every night.
At the seaside Punta Marina thermal centre, visitors can experience the beneficial effects of the mild climate, warm seawater and wonderful Italian sunshine.