Art Factory
The artworks collected by the King of Coats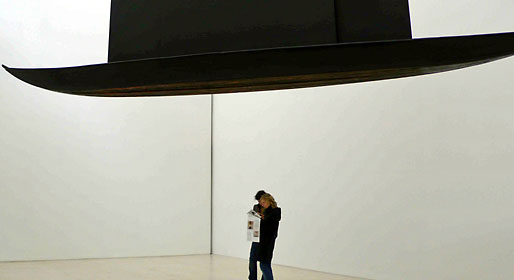 Ask any resident of Reggio Emilia to show you the way to the old Max Mara factory, and they'll have no difficulty indicating the streets which lead to the edifice where, in 1951, one of the most important names in Italian fashion was born.
A man with a mission
In 2003, the Max Mara Group's head quarters and production base were transferred to another site and the company's founder, Achille Maramotti, started work on a project to transform the "factory" in to a container for another of his lifelong passions: contemporary art.
In 2007, two years after his death, Maramotti's dream was finally realized. The building was converted in to exhibition space by the English architect, Andrew Hapgood, who deliberately conserved the signs of the construction's industrial origins, such as floors stained with the oil from the old sewing machines.
Testifying to the separate, yet always related, worlds of art and fashion, the collection is comprised of hundreds of paintings, sculptures, and installations realized by both Italian and international artists from 1945 to the present day

Industrial art
Works are displayed according to various criteria; sometimes in chronological order, sometimes by nationality, often according to their respective movements: from the abstract art of Burri, Fontana, and Manzoni to the conceptual art of Kounellis, Pistoletto, and Merz, from the Transavanguardia of Chia, Clemente, and Paladino to the Neo-expressionism of Basquiat and Schnabel.
The exhibition also showcases numerous works of late 20th century "New Geometry" and recent experimentations from British and American artists.
Work in progress
The permanent exhibition contains more than 200 works displayed in a total of 43 rooms. The ground floor is devoted to temporary, theme-based shows of recent works which, following in the footsteps of the founder, the younger members of the Maramotti family continue to collect.
His interest in artistic innovation led Maramotti to choose works from the early period of each artist's career that would best testify to their ground-breaking impact.
Art, like fashion, is subject to constant evolution, and the room where Max Mara's prototypes were once produced, has become the "pattern room" where artists are invited to work on site

Free to enjoy
According to desires expressed by Maramotti, the collection is open to the public, free of charge, by reservation only, and to a limited number of visitors.
In this way, a maximum of 30 people visit the converted factory at any one time, experiencing to the full a gallery destined to continue investigating the "new" dimension in the world of contemporary art for many years to come.
Maramotti essentials

Maramotti collection
Via Fratelli Cervi, 66
Reggio Emilia
Tel +39 0522 382484
www.collezionemaramotti.org

Hotels in the area