Hotels to remember: Praiano
Praiano: introduction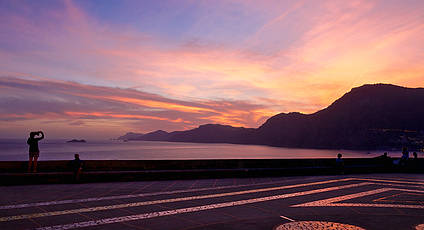 The Amalfi Coast is a part of the world well worth exploring. In addition to its well known sea resorts, there are a whole host of tiny settlements which still maintain truly ancient artistic and popular traditions. Praiano is one of these small towns, a fishing village immersed in a peaceful landscape, once the resort chosen by the Doge in past centuries.
Traditional crafts still flourish in Praiano, from the production of silk garments to the embroidered pieces worked by the women of the village. Praiano is situated between Monte St Angelo a Tre Pizzi and Capo Sottile, a tiny area of land characterized by its dramatic scenery.
To visit: the parish Church of St Luca Evangelista, which houses works of art from the 1500's by Bernardo Lama, a relic of the Saint and a silver bust dating back to 1694. Next to the church one finds the three tiered bell tower which overlooks the entire village.
Praiano: suggestions from the hotels
Antonio Barbaro
(Proprietario)
4 Star Hotels
Our House is situated in the middle of the Amalfitan Coast. Then is very easy to reach the most famous locations of the Coast Ravello, Capri and Positano with pubblic buses or boats. In Hotel we organize excurtions to Pompei and Vesuvius. (Belvedere) →
Salvatore Criscuolo
(Owner )
4 Star Hotels
For the beauty and centrality that the Amalfi Coast. From here you can reach every place of interest such as Ravello, Positano, Amalfi, Capri, Pompei, Sorrento. For the good traditions of Mediterranean cuisine. (La Conca Azzurra) →
Nello Oliviero
(Manager)
Luxury Villas

Experience a luxury vacation in total privacy, reveling in local traditions and a warm family touch. All this, and the amazing fried "calzoni" homemade by Alina... (Villa Oliviero) →
Praiano: gourmet addresses
More suggestions and useful addresses
Praiano: places to see in the area